Module this feature covers

Corporate Performance
What this feature for
Scenarios are applied to the indicators that have the setting "Accept scenario" set to "Yes" in their settings.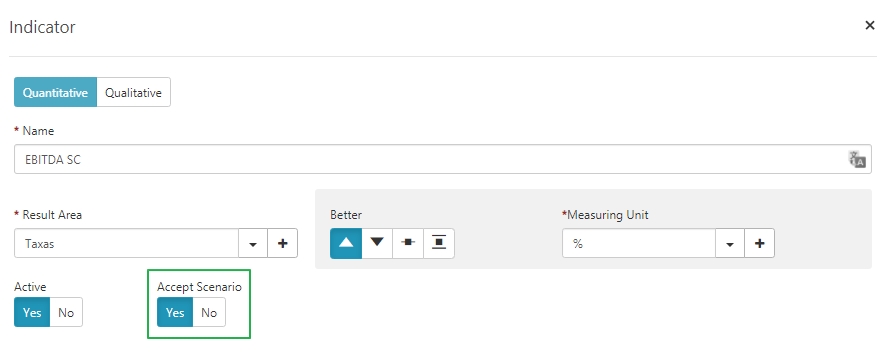 Previously, these scenarios were called on Stratws as Forecast and Projected, with no possibility of alteration. Now, with this new feature, it will be possible to change these nomenclatures to other terms, making possible the names applied to these values ​​to be adapted to the reality of your organization.
Customizing terms for indicator scenarios
By default, the terms used for the scenarios continue as Forecast and Projected. To change them, you must have the Administrator or Super User profile type.
Therefore, access the Settings > Analysis scenarios screen.


Two configurations will be presented: Scenario 1 and Scenario 2, containing the Name and Acronym information, where the Name is presented in the functionalities where it is possible to apply a filter to the values ​​of the indicators (for example, KPIs, Scorecard, Drill Down Tree, Calculations, etc.) and the Acronym is shown in the SpreadSheet, in the set of cells where these values ​​are filled in, and also in the Table of Values ​​in the Split Tree.


To change the terms of each scenario, enter the desired Name and Acronym and save.
Note: If any of the fields is empty when saving changes, the last term entered in the field in question will be considered. The terms defined for the scenarios are applied to all indicators that are eligible for this configuration.

Ready! From now on, Stratws will consider these new terms for displaying indicator scenarios, where applicable. 😄