Module that this functionality covers
Sharing a Scorecard with Specific Users
What is this functionality for
Scorecards are mostly used to measure and demonstrate in a visual way the strategy of the company or an area. However, these maps often contain sensitive and restricted information that cannot be accessed by all users that access the Management Unit.
From now on, it will be possible to restrict map access to some specific users of the MU, preventing some people from viewing and editing this sensitive data.
Module that this functionality covers
Corporate Performance
Sharing a Scorecard with Specific Users
To use the functionality, it is necessary that the user has editing permission at the Scorecard's origin Management Unit.
Access the Scorecard map edition by clicking on the three dots and then on "Edit Map of Scorecard":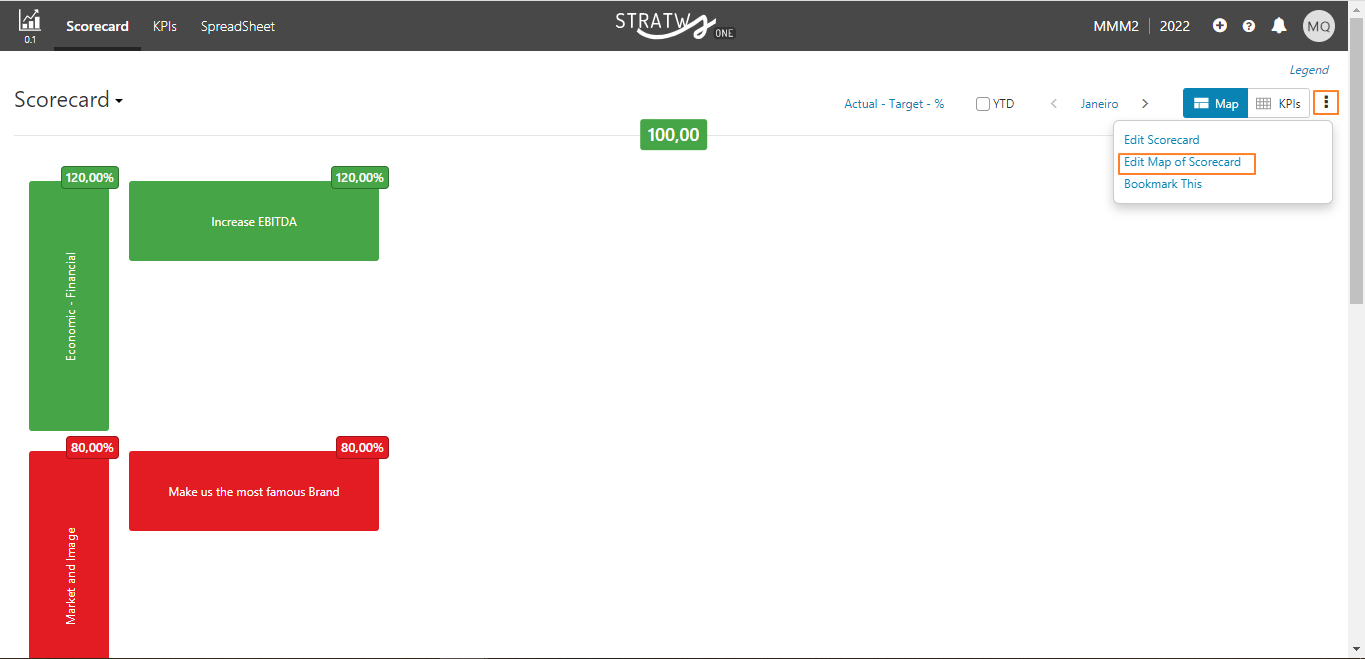 Then click on the

icon to access the Scorecard sharing details.
From now on, we will have three sharing options:
All users:

All users with access permission to the Management Unit will be able to access the Scorecard;

Responsible:

Only the Responsible for the Unit Manager will be able to access the map;

Specific users:

Only the selected users will be able to access the map;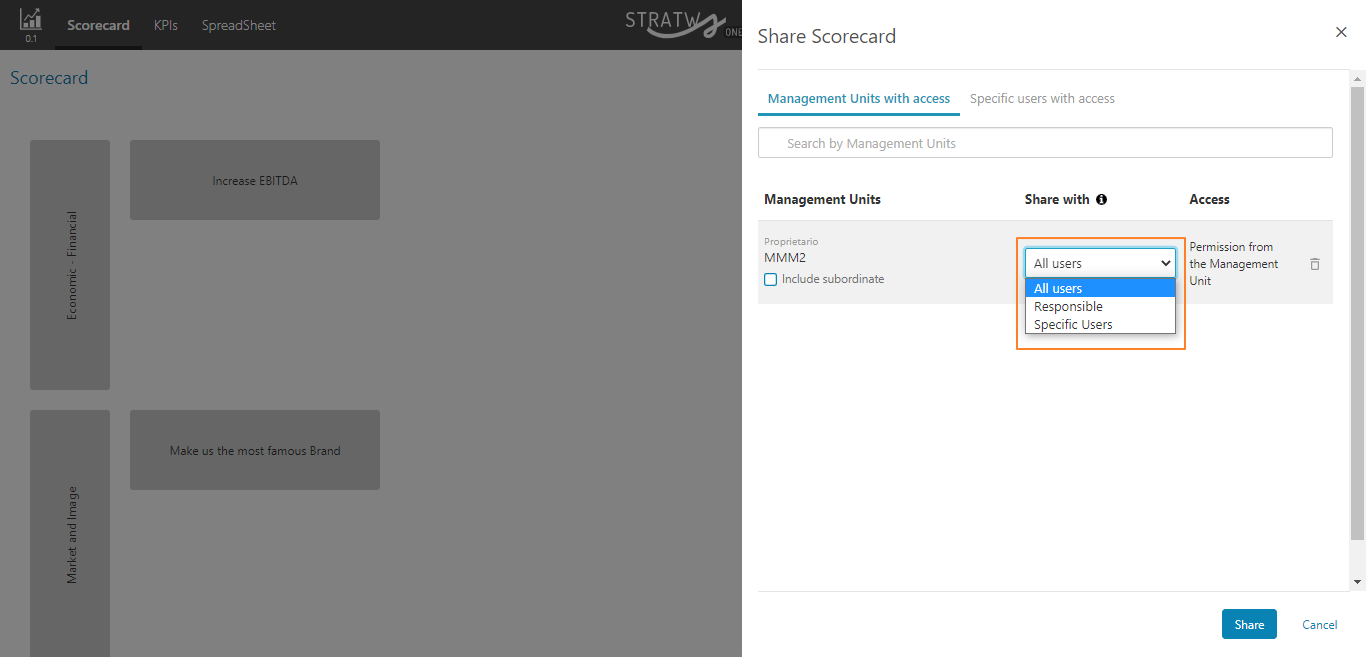 After selecting the "Specific users" sharing type, go to the "Specific users with access" tab to define who can access the map. Simply search and select the users of the Management Unit that will have access. On this screen, you can also define the level of access that each user will have.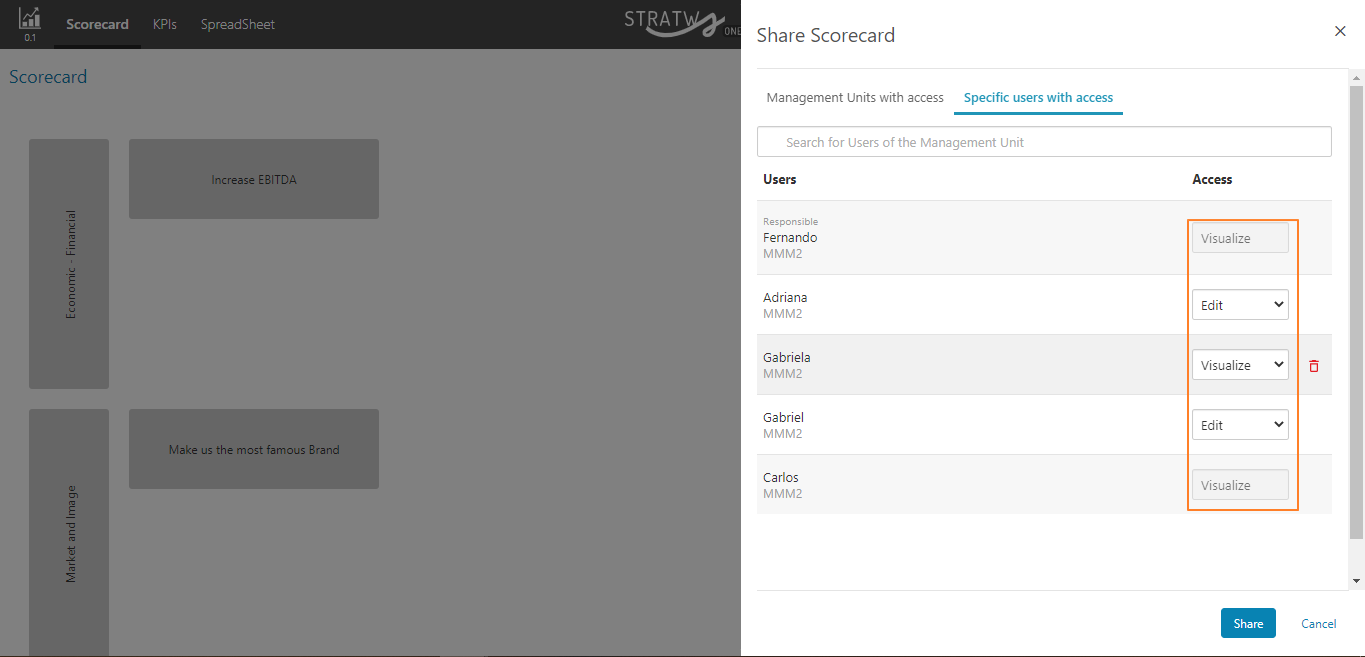 It is important to emphasize that it is not possible to give more permissions in the Scorecard than what is defined in the user's profile. That is, if a person has viewing permission in the Management Unit from which the Scorecard originates, it is not possible to give him/her editing permission in the Scorecard. On the other hand, if the person has edit permission in the Management Unit, you can restrict them from editing the map.
When you select this sharing setting and add the users, only these users, the MU's Responsible and the administrators/super users will access the map.
Comments
The person responsible for the Management Unit, administrators and super-users will always be able to access the Scorecard;

In the

destination Management Units

of the Scorecard, the permission will

always be to view;