Module this feature covers

Project Portfolio
What this feature is for
With this new feature, it is possible to import new tasks into a Schedule without pre-existing tasks being replaced. Thus, even if a Project is in Execution, it will be possible to add new tasks, through the Change Request feature, and the tasks and their pre-existing executions will be kept.

Importing new tasks into a Schedule without replacing pre-existing tasks
Importing new tasks is allowed in the Planning and Execution phases. In the latter it is necessary to create a Change Request.
When accessing a Schedule that is enabled for editing, two options for the Import functionality will be displayed, as follows: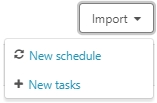 New schedule: replaces all tasks, generating a new schedule from the imported file.
New tasks: add the tasks from the imported file from the last task in the current schedule, maintaining the characteristics of the pre-existing tasks.
To perform the import without replacing tasks that already exist, just select the New tasks option and choose the desired file. Ready! From now on, all tasks, previous and new, are part of your schedule! 😄
Note: There is no validation as to whether the tasks in the file in question have been added previously.