Module this feature covers

Individual Performance
Why this feature is for
It is now possible to access some features of the Indicator menu through the Panels of a Results Program.
The functionalities available in the menu are: Properties, Change Log and Drilldown Tree, which were
accessible only in

Corporate Performance.
Accessing the Indicator menu in the Results Program
Access the desired Results Program Panel. When locating the indicator, place the mouse over it and click on the icon. The features will be displayed and you can choose the desired option: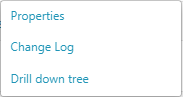 Note: Only these features are available for the indicators from the Results Program, and the Drilldown Tree is only displayed if the indicator in question has drilldown.