Module this feature covers

Individual Performance
What this feature is for
It allows defining specific distinct ranges for the same indicator present in more than one Management Unit, also considering the members of its dimensions. Thus, it is possible to assign different note ranges in the different Management Units to which the indicator belongs.
Defining specific ranges for the Indicator present in different Management Units
For this, it is necessary to have an Administrator or Super-user profile and also that there are already Specific Tracks registered for the desired Results Program.
To learn more about the registration of Bands in a Results Program, click here.
The specific range configuration for an indicator of a given Management Unit is available in the indicator properties. Locate the desired indicator in the Results Program Panel, in the Lighthouse or in the Worksheet and go to Properties > Results Programs.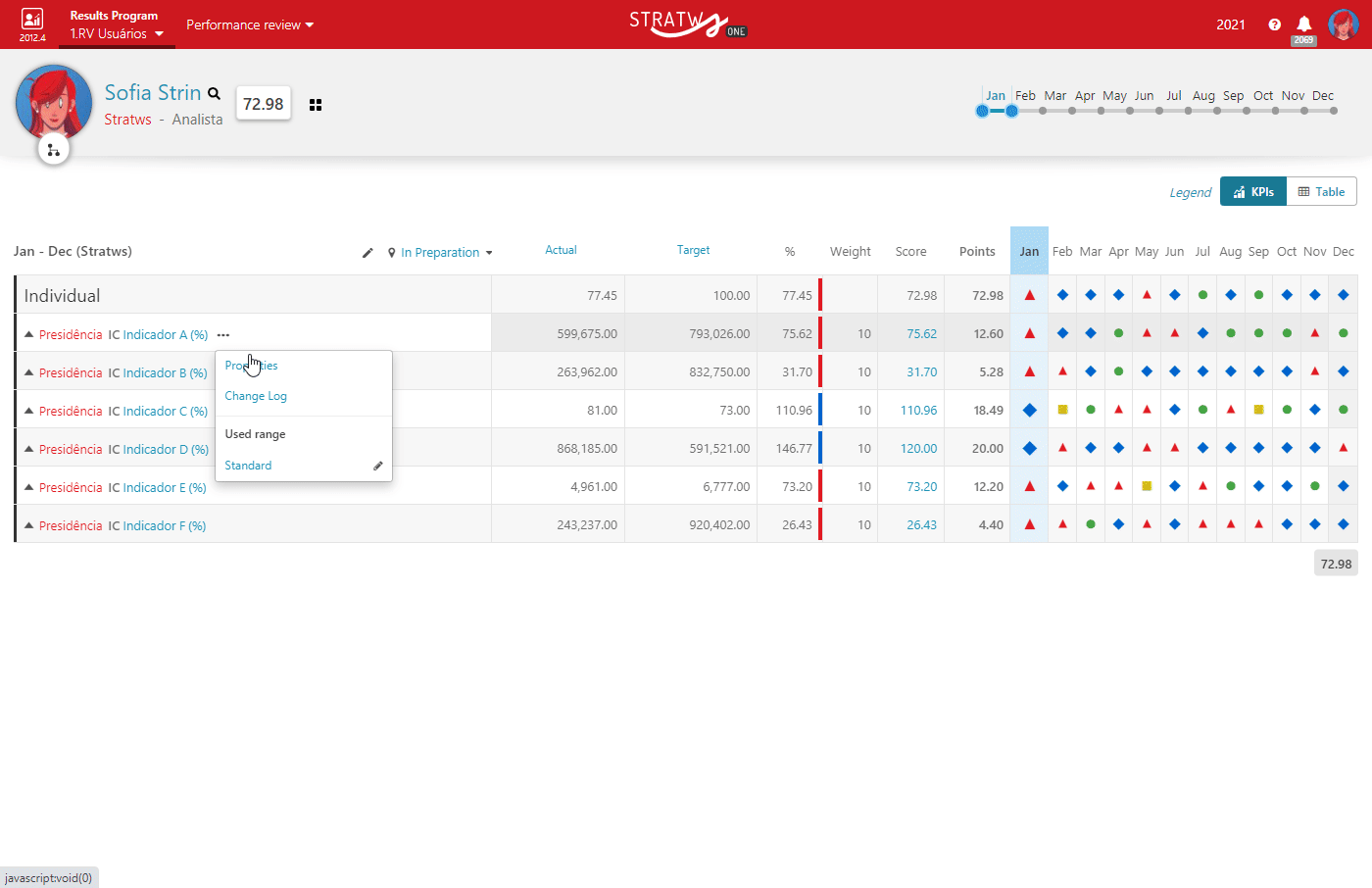 The Results Programs registered for the selected Management Plan will be displayed.
Note that if you are accessing from a Results Program Panel, the name of the program you are in will be highlighted, as in the following example.

A faixa Padrão se refere aos valores definidos na aba Faixas do Programa de Resultados. Já as Faixas Específicas cadastradas são exibidas ao executar o passo a seguir.
Localize na listagem o Programa de Resultados desejado para a alteração da Faixa, clique no ícone

e selecione a Faixa específica desejada para ser aplicada a este indicador.
Se existir uma Faixa específica onde nenhuma nota foi configurada, não será possível utilizá-la.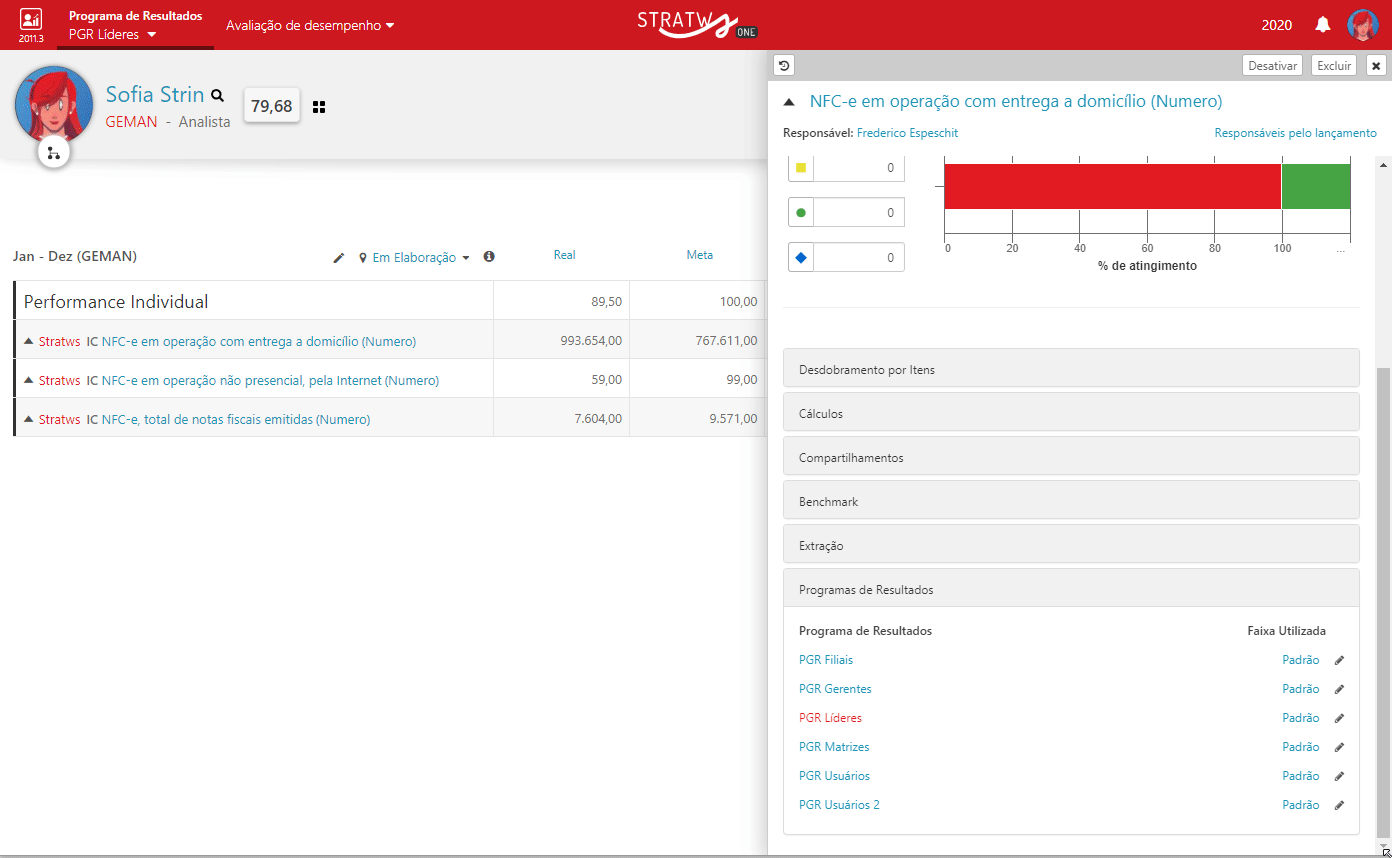 A partir de agora, este indicador terá sua nota calculada de acordo com as notas e seus percentuais relacionados, que foram estabelecidos para a Faixa Específica selecionada para o programa em questão.
Ao clicar sobre o link disponível no nome da faixa selecionada, é possível visualizar a régua de notas e seus percentuais correspondentes.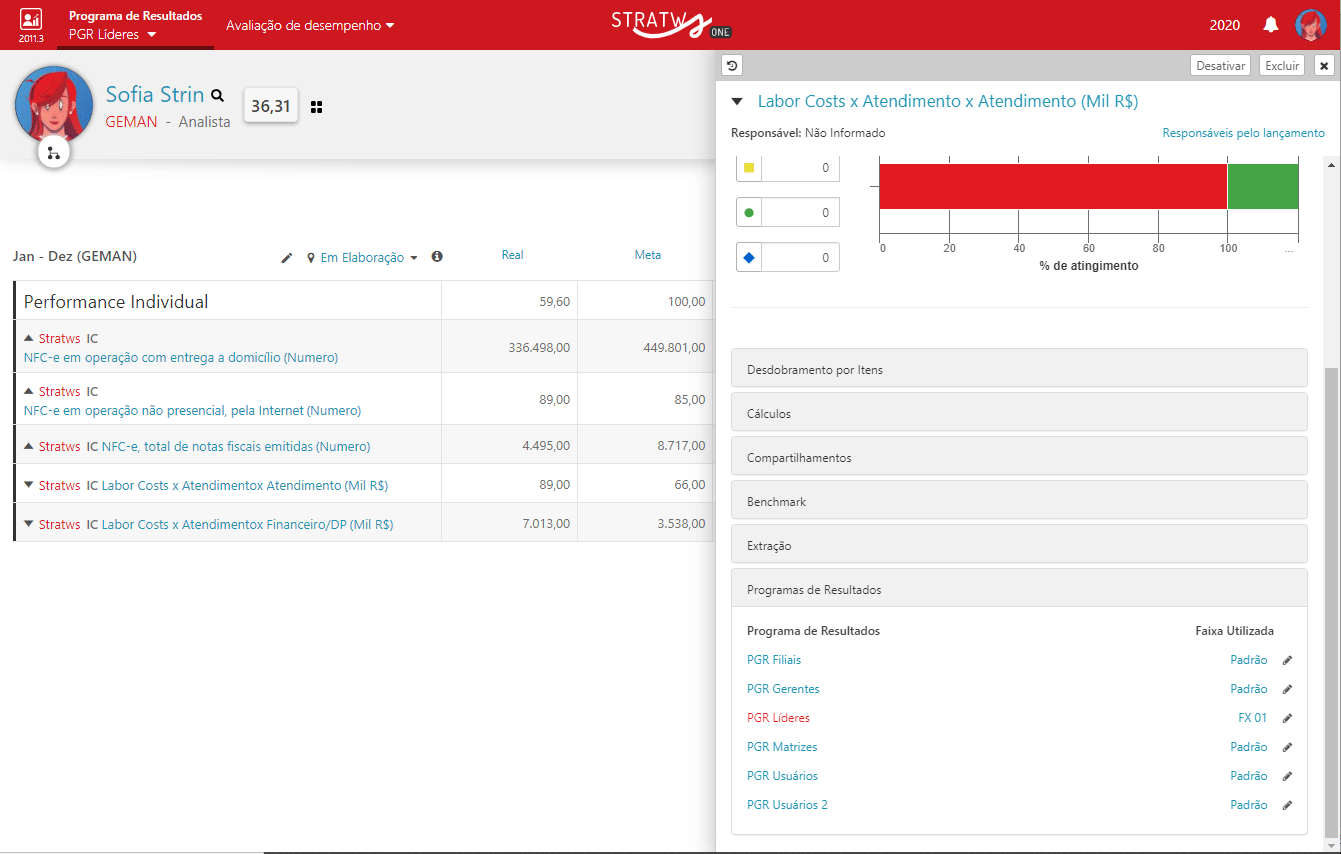 Viewing the indicators that have a Specific Range defined in a Results Program
Para isto, é necessário ter perfil de Administrador ou Super-usuário.
Esta visualização fica disponível dentro do cadastro do Programa de Resultados. Há duas formas de acessar esse cadastro: através das Configurações > Planos de Gestão ou através do link no nome do programa, de dentro das Propriedades do indicador, conforme a seguir: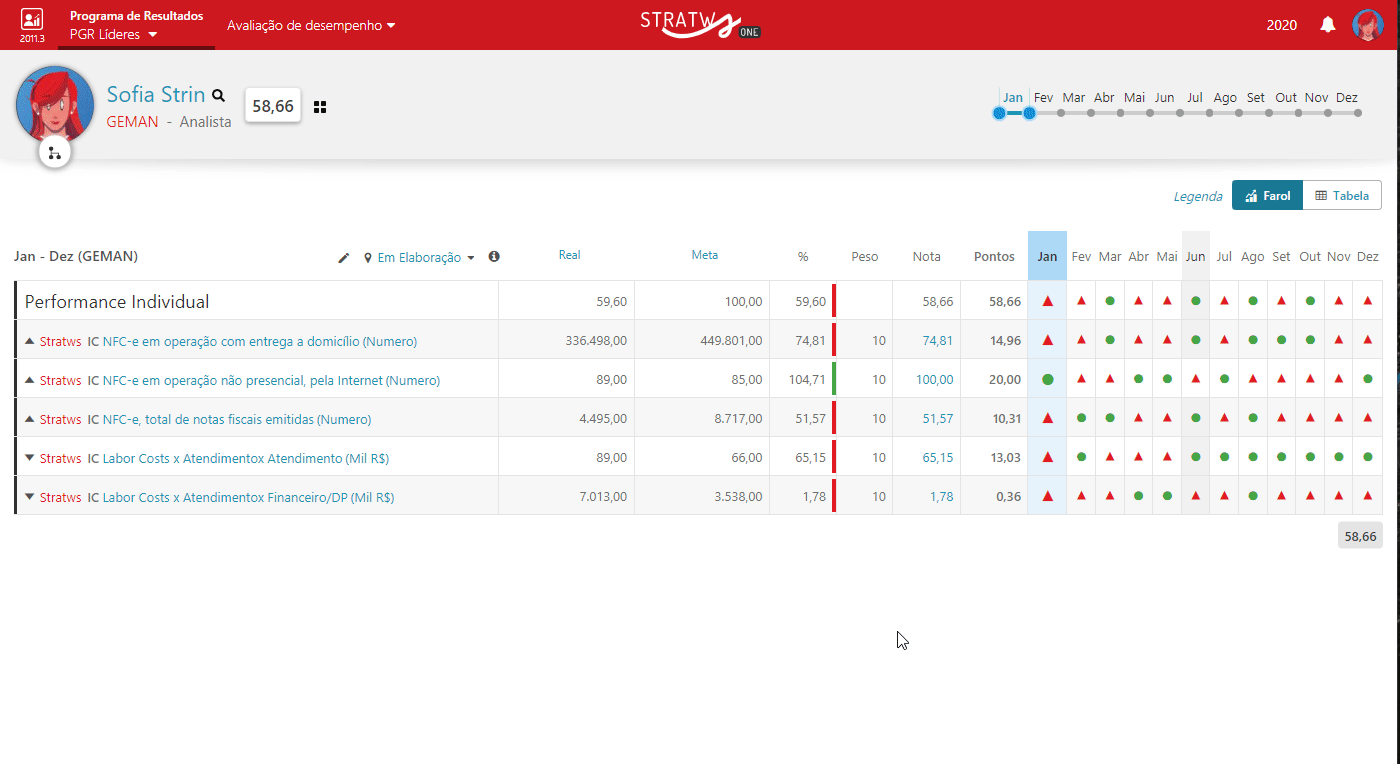 Vá até a aba Faixas Específicas e clique para expandir os dados da faixa desejada.
Serão exibidos os indicadores vinculados a esta faixa, as configurações de percentuais e suas respectivas notas.
As colunas de Dimensão e Unidades Gerenciais apenas serão exibidas caso existam indicadores que possuem a configuração de faixa para determinada Unidade Gerencial.
Caso existam indicadores que foram configurados através desta tela, onde não possuem relação direta com as unidades, apenas o nome dele e a opção para excluir serão exibidos na listagem, conforme imagem a seguir: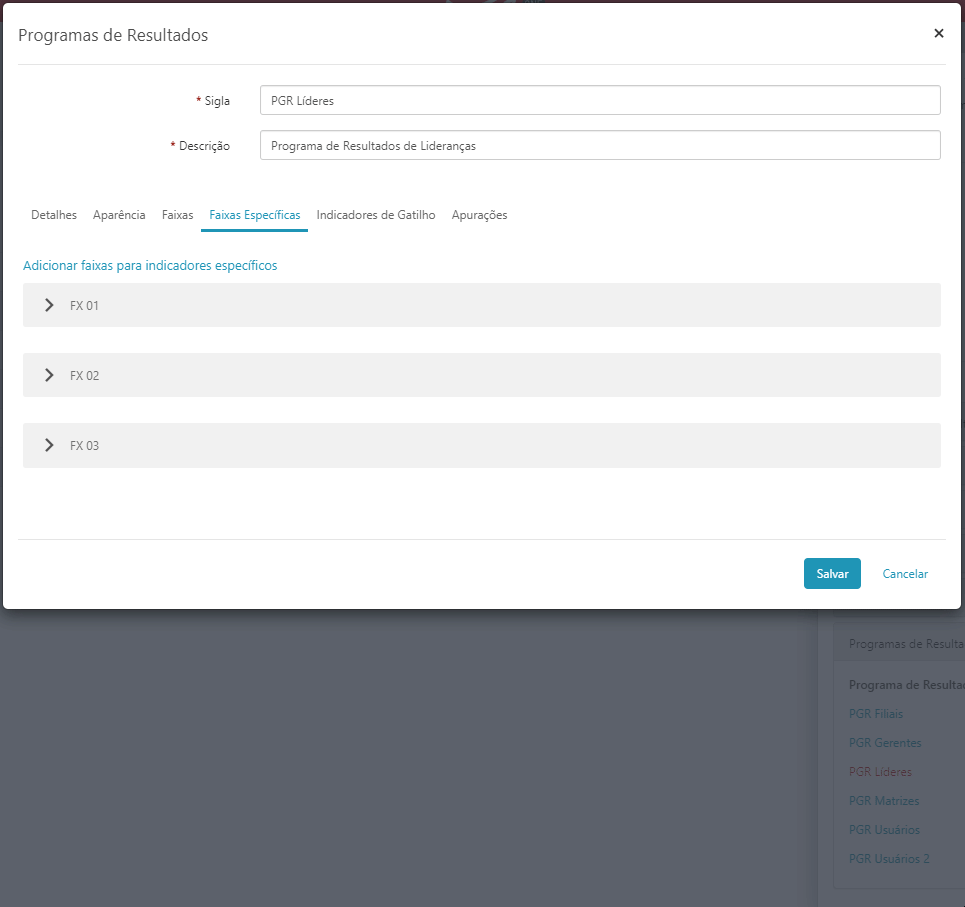 Observações:
A configuração de

Faixas

Específicas

que se aplicam ao indicador em determinada Unidade Gerencial apenas pode ser realizada a partir das

Propriedades

deste indicador.
Já a configuração de Faixas Específicas para indicadores a partir do cadastro do Programa de Resultados abrange os indicadores de forma geral, em qualquer Unidade Gerencial a que pertençam.
Se existir um indicador onde não há relação direta com Unidades Gerenciais (quando ele é adicionado diretamente de dentro do cadastro do Programa de Resultados, na aba Faixas Específicas), a faixa em que ele foi relacionado se torna a faixa padrão para ele neste programa, independente da Unidade Gerencial. Neste caso, pode-se alterar para outra Faixa Específica a partir das propriedades do indicador presente na Unidade Gerencial.