Module of this feature
Individual Performance
What is the utility of this feature?
Everything is going well to start 2020 Management Plan but in february everything changed. The whole world was quarantined and all Targets didn't work anymore… An online meeting was scheduled and the new Scenarios for this year were set...
Now it's possible to analyse the scenarios last year´s Projected, Forecast and Actual of Indicators and last year´s Actual of Objectives in the Results Program.
The scenarios are available to be selected in the menu in the columns Result and Reference at KPIs view of items.
The Results values are found in the posterior column of the item's name. The Reference values are on the right of the Results column. As default, the Result column represents the Actuals values and the column Reference represents the Targets value.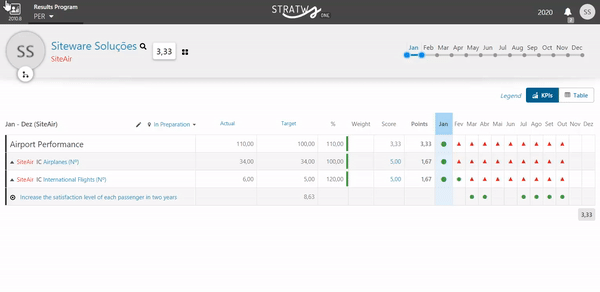 If the Indicator didn't have scenarios, look in the next topic how to configure them.
At the Table view of the Results Program the items will inherit the selection made in the KPIs view and will show the abbreviation of the selected scenarios.
If the Indicator or Objective doesn't accept the selected scenarios, the analysis will use the default scenarios, that is the Actual for Results column and Target for Reference column.
Configuring scenarios of Indicator
To analyze the scenarios of Indicators, enable the configuration "Accept Scenario" in the edition of Indicator Base as shown in the image below. With the configured Indicator, the scenarios will be available to be set in the Sheet now.